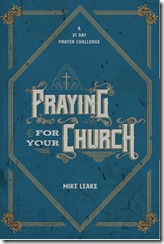 In November and December many of you completed the 31 day Pray For Your Church challenge. I had told many that at some point after the project completed that we would have a free ebook available.
I'm happy to announce that today you can download the free ebook. No need to join a mailing list or anything just go here to download:
https://www.dropbox.com/sh/ltkfhkr8n8t94ay/AADjxdq4OAfXudNRBTgjxW2wa?dl=0
At present, the book is available in .mobi format. In the future it will be available in .pdf and .epub. But have no fear. If you cannot wait for the updated files you can simply go to a site like Zamzar and convert the .mobi to .pdf or .epub.
Enjoy!
Look for the app to be available soon from our 31 Day Prayer Challenge site.
—
Many thanks to Dawn Lamper and Geoffrey Dagley for their work on the ebook and apps. Also thanks to all those who helped with the editing process and all those who completed the prayer challenge.